---

© 2007 Neatly Chiseled Features,
all rights reserved
---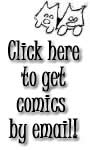 Welcome to the New Cats With Hands Fan Scrapbook!

The "Original" Cats With Hands - the inspiration for the comic
| | |
| --- | --- |
| Fluffy | Snuggles |
| | |
If you'd like to display a photo of your feline friend(s), email it to us at janet@eboffo.com
Photos larger than 800x600 will not be accepted.
Please include:
Your name
Your pet's name
City & State
An interesting fact about your friend
---
Cat Name:
Location:
Submitted By:
Photo (click thumbnail for larger view)
Cat Fact:
Zack, Jeremy, & Shelly
Great Meadows, NJ
Kathy Sobol 2/12/06

All rescued kittys, All exhausted after playing together.

*Note: Kathy's pet adoption organization can be found at:
www.palpets.org

Zoe
Great Meadows, NJ
Kathy Sobol 2/12/06
She was a stray we rescued who is a loving cat who sucks on her cat brother and sisters ear tips. They all love her as much as I do.
Daisy
Crofton, MD
Heather Williams 2/6/07
Loves high places (she is in my flowers on top of the kitchen cabinet), loves playing with water, and loves to imitate birds while bird watching.
Missey
USA
David Pickett 2/1/07

She likes to play with my feet when I'm under my covers. She plays with a toy mouse and ball.

She's not really in to watching the birds, but she likes to sit on the back of a chair and watch out

the window. She is a big ball of hair, she is my best friend. We found each other. She is a delight to be around, she likes to chase my dog around and my male cat. Her water dish is blue with little paws around the dish

Dennis The Cat
Jacksonville, FL
Lina Faye 1/31/07
My husband was working on the car in the driveway. When it was time to close the garage door he came in and told me "There's some kitten in the garage and I don't know how to get it out." Meanwhile, a hurricane called "Dennis" is working it's way up the coast so we're getting occasional gales blowing through. During one of the storms I lean out the door to call Ceasar (the cat that lives here) and in comes Ceasar and a little black dart. I put him back out when the storm passed...so he could find his way home or his "parent" could find him. We're still waiting. Meanwhile we call him Dennis The Cat (not the storm) and keep waiting. It was a year last July. He's still draped over my shoulder purring.
Clipper, Plato, & Socrates
West Bend, WI
Brian Gross 01/18/07
Orange and White cat is Clipper, he's the troublemaker of the three. Gets into things he really shouldn't. White and grey cat is Plato, he is the most vocal of our cats like the real plato, acts as the orator for Socrates.
The tiny grey striped cat is the girl, Socrates, she doesn't meow and is rarely seen. If she has to announce her presence it's a barely audible squeak.
Merlin & Magick
Littleton, CO
Carol DuBe 01/15/07
Twin black babies, rescued in Aurora, Co. They are so much fun! They play together and separately. Merlin is on the left and he's the quiet one. Magick, on the right, fetches his toys while Merlin looks on. Magick has asthma so he needs meds everyday. He doesn't seem to mind too much!!
Mikki
London, UK
Martin Skates 01/11/07
An eight year old ginger tom who we have had for nearly three months! His first servant came down with Alzheimer's and her daughter, a dog sitter, was looking for a new home for him. Cutting a long story short, I think he choose us rather than the other way round, hehe!
Bucky & Rocky
Plano, TX
John Shampton 01/10/07
Bucky (right) is a break-in artist (a cat burglar, if you will) - he can open kitchen cupboards, sliding closet doors, china cabinets and anything that isn't locked (if he had thumbs, he'd probably be able to pick the locks). Rocky (left) goes into the places that Bucky has opened and gets into trouble.
Cracker
Barnstaple, Devon, UK
Gay Richardson 01/08/07
Cracker is a cream Burmese rescued from a large town in Cornwall when she was about 6months old - she must have got into somebody's car when they were visiting her home. Loves car travel, and she is a tom boy who never stops purring.
Ceasar
Jacksonville, FL
Lina Faye 01/08/07
Lucy
Pennsylvania
Amy Gross 12/28/06
Good friends with a dog named Satchel (also pictured). Favorite pastime is watching delivery trucks go by with Satchel.
Winston
Pennsylvania
Amy Gross 12/28/06
Found on a highway lying in traffic. Liked to watch NASCAR as a kitten.
Would you like to see Cats With Hands in your newspaper?
Nettizen Newspaper Directory - This page has links to 8000 newspapers around the world
Contact your local editor - your voice matters!