---

© 2007 Neatly Chiseled Features,
all rights reserved
---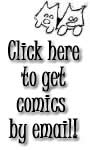 ---
NEWS:

Our Cats With Hands Animations now also appear on CatChannel.com, the parent Web site of
Cat Fancy Magazine. Click here to check us out, and for tons of other cat news and features!
Would you like to see Cats With Hands in your newspaper?
Nettizen Newspaper Directory - This page has links to 8000 newspapers around the world
Contact your local editor - your voice matters!
---