---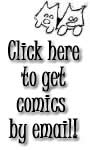 ---
NEWS:

Our Cats With Hands Animations now also appear on CatChannel.com, the parent Web site of
Cat Fancy Magazine. Click here to check us out, and for tons of other cat news and features!
---
© 2007 Neatly Chiseled Features,
all rights reserved
In addition to the print version, Cats with Hands is
now animated and available for your website!


Click here for the Animated version!
---
Would you like to see Cats With Hands in your newspaper?
Nettizen Newspaper Directory - This page has links to 8000 newspapers around the world
Contact your local editor - your voice matters!
---
The First "Incredible Cat Story!" - Email Janet to submit your story!
Matt, the Great Lakes Thalidomide Wonder Kitty

by Miya T. Kressin
Kenosha, WI

It isn't my fault no one loved me. I was born without paws, and with only part of a tail. People treated me as a sideshow attraction: I bounced between collectors. Humans even dared to make me live with those lessser creatures they call dogs.

One day a woman wearing the marks of a cat lover found me. She didn't turn away in disgust at my stumps, nor laugh when I pulled my body toward her. Kirsten saw only my heart, heard my purr, looked into my pleading gold eyes. We are happy together. I am Bast's special treasure, Kirsten's diamond in the rough.
---

---
Cat Chat
Join Joe and Janet in writing a weekly running comic strip to be posted on the Internet. It features the adventures of Snuggles, Fluffy, Pretty Girl & Babyface. This is open to anyone with good ideas for a running storyline. Joe will illustrate it at the end of every week. The strip will be posted here on catswithhands.com.
Janet Deaver-Pack is an author with over 35 short stories published in Fantasy, Science Fiction, Mystery, and Horror. She is the editor/co-editor of four anthologies: her latest is Magic Tails. Janet has been a panelist at popular Writer's Seminars at GenCon in Milwaukee and Indianapolis, and recently participated in several panels at Chicago's WindyCon.
Chat with Janet online Monday-Friday
10:00-11:00 CST

Click here for the Chat Room

Click here for the Cat Chat Forum
Newspapers:
Click here for print ready dailies in TIFF format